The Maileva saga / La Poste by Alain Gosset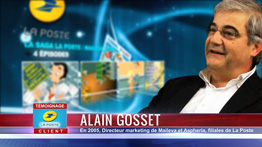 In 2005, La Poste committed a vast communication campaign support for the launch of its new subsidiaries, Maileva and Aspheria. Alain Gosset is then marketing director and he confided to 3TOON the design and the construction of the gigantic operation to e-mail marketing.
The action is the creation of a web-episode anime series 4 (see dedicated page), which will serve as a commercial tool BtoB forces sale of La Poste.
In 2012, seven years later, Alain Gosset gives us this customer story where he describes his expectations of the time and delivers the complete balance of this exemplary operation of viral marketing. It emphasises in particular the exceptional longevity of these programmes, always operating by the business of La Poste and Maileva, several years after their command.
Saga mail / Maileva
In 2012, Alain Gosset testifies to the viral marketing campaign that he commissioned while he was marketing director.
Transcript of interview with Alain Gosset
"By doing this operation, it was shown that La Poste was modern. As the post office, which traditionally was perhaps perceived as a little "ringarde", – this is the notion of 'trust', the concept of the paper – making an operation like this, we gave an image of modernism, where it was known to bind the Internet, telephone and paper! "
What other functions did you parallel branch marketing of Maileva and Aspheria, a subsidiary of La Poste?
Alain Gosset: I was the president of the SNCD, national Union of direct marketing. I launched the e-mailing in France, I wrote a book on the use of e-mailing, I handled the legal aspect of everything that revolves around the Permission marketing. And I also directed companies in direct marketing.
What a challenge or problem did you face before contacting 3TOON?
A G: The problem of Maileva is that it is a company that sells products directly online, since it is the printing of documents online, and other products for archiving. The destination of the product, it is the TPE and SMEs. Given the large number of TPE and SMEs in France, it was necessary to find support for, on the one hand to explain the product, since it was a totally innovative concept, and trying to sell it as simply as possible, live. And therefore, it is necessary also to find a way to both training and information to the general public, TPE and SMEs, but also from sellers of La Poste, the post advisors, and so they were trying to have a product that had two destinations: a product to support the sale and a self-study for the sellers product.
How did you know the 3TOON studio?
This is random! I was member of the jury of a grand prize of direct marketing, and there were several categories of awards, including a prize on viral marketing. 3TOON was nominated in the Grand prix of the viral marketing category, with two other companies, and it is 3TOON who won the grand prix, with a series of commercials for Fastbooking, who edited an online booking for hotels software. And a few years later, when I was marketing to the post office, I called to watch if it was interesting to make a cartoon for the launch of our products.
What results were you hoping for?
Make a promotional campaign of e-mailing B to B, for small traders and artisans, it was not obvious… Where my memory of the Grand prix of viral marketing in 2001. I told myself that if we had 10,000 or 30 000 e-mails with an innovative message, funny, it might be a duplication of the message of 10 times, 20 times, 50 times… And so it sent small traders with the idea that, often, when someone receives a message that touches, he sends it to his buddies, his buddies do the same, what is the basis of viral marketing. And that's why we chose this type of product.
Why did you choose the 3TOON studio?
Frankly, at the time, when we chose 3TOON, it did not tender. Just because 3TOON was in an innovative at that time where concept. A company that had experience, which had an innovative product, which had been recognized by peers because she had grand prix, even though I was also president of the jury – but I wasn't the only one in the Board – so it did not tender was simply assumed. The budget has been estimated to be reasonable compared to our problem of diffusion with two messages.
How many episodes have you ordered?
Already has been start 3 movies, and as it rained tremendously, La Poste has ordered a fourth film to launch its electronic registered letter.
Have what results you achieved in the end?
It is very difficult to have the results of viral marketing! But I connected like that, by chance, in Maileva, 6 months ago, and I saw that these cartoons were still online… 7 years after! That, I think it shows that there is a certain success.
What lessons hold you this experience?
We had a lot of very positive feedback from internal market forces of La Poste. It was the second message. And like it, you could measure it as brought together them at least once or twice a year in seminars, during which it projected cartoons and they could go with, etc. So there have been measured that the fact that, beyond words, it said 'the shock of the images', but it is true… The shock of the cartoon, with a humorous side, fun, with a simple message – because one of the things one has learned, it is that with a cartoon short, need just a message, we will not make the multi-message – and therefore a simple message, the person who receives it, it keeps in its memory.
---
Watch 4 episodes of the web-series by clicking on posters

The post Office Web site
: http://www.laposte.fr/

Maileva Web site: h
ttp://www.maileva.com/
Trackback from your site.